 WORLD-RENOWNED
hydrogen fuel cell industry
200 FIRMS GENERATING $1.7 BILLION
in revenues annually
3,000 GRADUATING STUDENTS
each year from engineering and applied science programs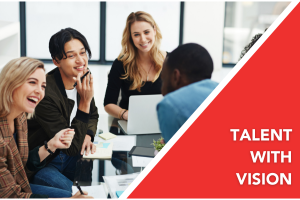 The region attracts and enables creators with a dream and a plan to make it happen.​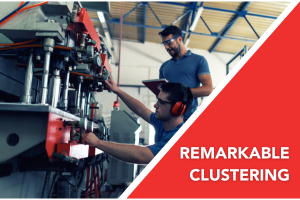 The world's leading growth sectors meet and thrive here: Digital Media & Entertainment, High-tech, Green Economy, Life Sciences, Apparel, Trade & Transportation, and Agritech.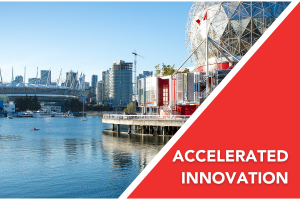 A cutting-edge innovation ecosystem designed for go-to-market success supported by accelerators, incubators and world-leading research institutions.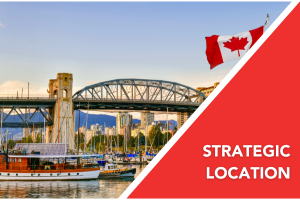 An advanced port, efficient rail,and swift access to Asia, the USA, Mexico and South American trade. More parks, more culture, more play and contemporary infrastructure that keeps everything moving smoothly.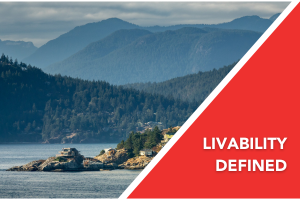 Metro Vancouver is North America's biggest natural playground and is home to one of the Top 3 cities to live in.
FAST FACTS
1. IT WAS FIRST KNOWN AS GASTOWN
Gastown, the core district of Vancouver, was originally settled by a Yorkshire steamboat captain named "Gassy" Jack Deighton. His talkative nature earned him the nickname, and the area came to be known as Gassy's town. The Hastings Mill sawmill and the emergence of a seaport brought prosperity to the area.
2. HASTINGS MILL STORE – THE OLDEST BUILDING IN VANCOUVER
The Hastings Mill is the oldest standing building in the city of Vancouver. It was constructed in 1857, which makes it relatively young compared to buildings in other parts of the world. However, as a young country, Canada takes pride in this historic structure. Hastings Mill played a crucial role in Gastown's early prosperity by providing jobs that attracted larger development to the area. Today, the Hastings Mill Store stands as a museum that showcases relics and artifacts from the founding of the city.
3. THE GREAT VANCOUVER FIRE DESTROYED MUCH OF THE CITY
In 1886, a fire broke out in Vancouver which resulted in the destruction of almost the entire city. The incident occurred when the area of Granville was being incorporated into the wider city of Vancouver. This fire was intentionally started by humans to clear land for building railway depots of the Canadian Pacific Railway. However, the situation worsened and the fire got out of control, destroying around 600 to 1000 buildings in the process.
4. VANCOUVER'S HOME TO CANADA'S LONGEST SWIMMING POOL
If you're a guest of a luxury Vancouver hotel and prefer swimming in a pool rather than the Pacific or Burrard Inlet, the Kitsilano Pool situated on the beach of the same name is the perfect place for you. The saltwater pool spans a length of 137.5 meters and offers a stunning view of the ocean. It's definitely worth a visit for a refreshing swim.
5. STANLEY PARK IS BIGGER THAN CENTRAL PARK
Stanley Park is a top tourist attraction in Vancouver, renowned for its leisurely SeaWall Walk that stretches around its circumference. The park spans over 1001 acres and is larger than New York City's Central Park. Unlike Central Park, Stanley Park is a natural temperate rainforest that has been preserved for hundreds of thousands of years, without any intervention of landscape gardening by humans.
6. VANCOUVER ISLAND AND VANCOUVER CITY
It's important to clarify that when Vancouver residents refer to Vancouver Island, they're actually referring to the island located off the mainland that has been primarily preserved as a natural habitat. To reach Vancouver Island from Vancouver Metro, one must take a ferry ride that lasts between 90 minutes to two hours.
POINTS OF INTEREST
1. CAPILANO SUSPENSION BRIDGE PARK
The Capilano Suspension Bridge is the oldest attraction in the Lower Mainland, dating back to 1889. It stretches 137 meters across a rocky canyon floor and is a thrilling experience to cross. Even celebrities like Mick Jagger and Marilyn Monroe have visited.
2. GROUSE MOUNTAIN, THE PEAK OF VANCOUVER
Grouse Mountain, also known as The Peak of Vancouver, offers breathtaking views from its gondola ride, along with activities such as visiting a bear sanctuary, hiking, ziplining, and more. Don't forget about wintertime fun in the snow!
3. SCIENCE WORLD
Visit Science World to explore exciting exhibits on science and nature. Don't miss the immersive Sacred Journey exhibit until February 2023, where you can learn about Indigenous ocean-going canoe journeys. Book your visit in advance to avoid disappointment.
4. MUSEUM OF ANTHROPOLOGY AT UBC
The MOA exhibits Indigenous history and culture, stunning architecture, sea-to-sky views, and a renowned collection of art and artifacts. Buy tickets on arrival or in advance.n.
5. GRANVILLE ISLAND
Granville Island: This culinary, artistic, and cultural hub is home to more than 300 businesses. The Public Market offers a rich variety of take-out options for a picnic at the waterfront, or everything you need to make an impressive dinner at home. The local artists galleries and retail shops here make Granville Island a unique and much-loved destination.
6. BILL REID GALLERY OF NORTHWEST COAST ART
The Bill Reid Gallery in downtown Vancouver is the only public gallery dedicated to contemporary Indigenous art of the Northwest Coast. Until March 2023, visitors can see True to Place, an exhibition curated by Stó:lō artist Xémontalót Carrielynn Victor which features the works of 10 Indigenous painters combining place-based stories with innovative forms of expression.
7. QUEEN ELIZABETH PARK AND BLOEDEL CONSERVATORY
Queen Elizabeth Park and Bloedel Conservatory: Vancouver's "horticultural jewel" is home to the exotic Bloedel Conservatory—quite literally the high point of Vancouver. Offering spectacular views of the city and the North Shore Mountains, this lush hilltop park is the perfect setting for romantic picnics and late-night stargazing.
8. HARBOUR AIR FLIGHTSEEING TOUR
Experience an exciting change of perspective with Harbour Air's flightseeing tours. Take off and land on water and choose from various tour options ranging from 10-minute flights to full-day adventure packages. Departing daily from downtown Vancouver.
Warning!
Beware of email scams
DMG Events has been informed from several exhibitors are receiving scam emails . Please be aware these offers are fraudulent. These scammers do not have any relationship with DMG Events.In accordance with GDPR, CASL and other jurisdictional data privacy regulations, DMG Events will never sell your data to any third party organisations. Please see our Privacy Policy for more information regarding how DMG Events will process and store your information.