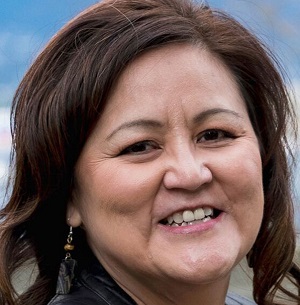 Karen Ogen is the CEO of the First Nations LNG Alliance, a society of First Nations in support of responsible LNG development in B.C. – with a priority on the environment, and on First Nations consultation and engagement.
Karen brings extensive experience to her role, having served as Chief of the Wet'suwet'en First Nation for six years. Most recently was a council member for the nation holding the Natural Resources, Energy and Economic Development portfolios. A total of 11 years of council experience with Wet'suwet'en First Nation.
She is familiar with the needs of Indigenous communities throughout B.C. and seeks to increase economic opportunities for First Nations through providing information and education regarding responsible resource development.
While Karen recognizes that not all projects will be appropriate for all nations, she hopes to help inspire more First Nations to consider and engage in discussions with industry and government around the possibility of resource opportunities.
Karen's academic background is in social work. She achieved her Bacehlors in Social Work in 1999 and a Master's degree from the University of Northern British Columbia in 2007, and graduated from the Indigenous Governance Certificate Program from the University of Victoria in 2010. August 2022, she has successfully completed her the Masters in Business Administration program from the Simon
Fraser University in the Indigenous Business Leadership program. She is the first in her family and community to attain two Masters degrees.
Karen has been awarded the "35 Most Influential Women in BC: The power to disrupt in March 2016 with the BC Business Magazine. And has been selected in two consecutive years, 2021 and 2022 with the Business in Vancouver: BC 500: The most influential business leaders in British Columbia within the Resources: Oil and Gas.
Warning!
Beware of email scams
DMG Events has been informed from several exhibitors are receiving scam emails . Please be aware these offers are fraudulent. These scammers do not have any relationship with DMG Events.In accordance with GDPR, CASL and other jurisdictional data privacy regulations, DMG Events will never sell your data to any third party organisations. Please see our Privacy Policy for more information regarding how DMG Events will process and store your information.