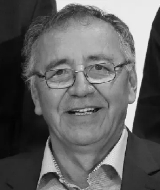 Jim Boucher has been, and continues to be one of the most influential and successful Indigenous leaders internationally.  Jim believes practice and preservation of one's traditional way of life can occur simultaneously alongside continuous and long-term sustainable oil sands development.   Jim has effectively built relationships with the oil and gas industry and all levels of government. This has built Fort McKay's social and economic strength, facilitated proper consultation and advanced the rights of his community and it's people.

Jim Boucher was born in Fort McKay, Alberta, a community of about 800 Dene, Cree and Métis on the bank of the Athabasca River. The middle child of seven, he is a direct descendant of Headman Adam Boucher who signed Treaty 8 on August 4, 1899. 
Raised by his grandparents, Jim's first languages were Cree and Dene. The family lived off the land with Jim helping on the trap line as a young boy. "It was a very good life. I grew up with people helping each other. Everybody had a responsibility, a function. Everyone contributed, even children. Living off the land was a beautiful experience," remembers Jim.
When he was 13, Jim and his younger siblings were placed in Blue Quills Indian Residential School in St. Paul, his three older sisters having already been sent several years before. "We were deprived of our family and community. For all that was lost as a result of the residential school system – our language, traditional way of life – the greatest loss of all to me was the loss of my mother. She lost her life of a broken heart, we were taken from her, and she was taken from us," remembers Jim.
First elected in 1986, Jim Boucher served as the Chief for over 30 years to his community Fort McKay First Nation.   As Chief, he began helping the community navigate the decline of the fur trade in the early 80's and the growth of the oil sands industry, facilitating proper consultation and advancing the rights of his community.  
In 1986, he established the Fort McKay Group of Companies and numerous First Nation joint ventures.  From the very beginning, Jim focused on three goals: creating employment, building educational opportunities, and turning a profit to provide a higher standard of living for the community. He achieved each of these goals in short order, then improved on them year after year.  As Board Chairman, Jim has developed and sustained successful First Nation-owned businesses that create economic wealth and opportunities for the people of Fort McKay. These Fort McKay First Nation majority-owned businesses include the 100 percent band-owned and operated Fort McKay Group of Companies and many Jointly owned partnerships.  Under his leadership, FMFN has grown into a successful, healthy community with next to zero unemployment, a per capita average household income higher than the Alberta and National average, a $65 million (and counting) trust fund, and control of companies that have generated $2.36 billion in revenue from 2013-2018. That makes FMFN a net contributor to Alberta's and Canada's economies. 
Jim was a driving force in the Fort McKay First Nation making an historic investment ($545 million), in Suncor's East Tank Farm on November 22nd, 2017.  Jim's collaborative leadership led to a $545 million deal with Suncor Energy, which turned over 49 per cent of its East Tank Farm to Indigenous ownership. The transaction built upon on a foundation of trust and collaboration and serves as a model for how First Nations and resource development companies can work together to achieve mutual long-term benefit.   The deal represents the largest business investment to date by an Indigenous company in Canada, and it is the first time the energy industry has given a majority stake to an outside party.   
In 2020, Mr. Boucher was inducted into the Alberta Order of Excellence.  The Order recognizes those who have made an outstanding provincial, national or international impact, and is the highest Provincial honour a citizen can receive as an official part of the Canadian Honours System.   
In 2020, Jim Boucher established the Saa Dene Group of Companies. 
Jim is the proud father of Jonathan and Jenica, and has 5 grandchildren.