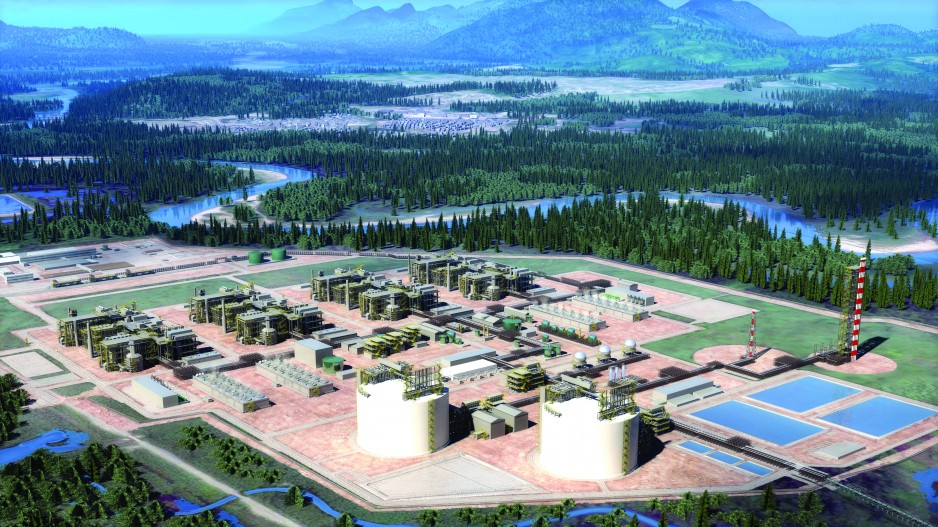 October 30, 2020
Nelson Bennett
BIV News
It's not hard to understand why Dawson Creek Mayor Dale Bumstead is an LNG booster.
Dawson Creek sits on one of North America's richest natural gas plays – the Montney – and his community has benefited from billions of dollars invested in upstream natural gas development in northeastern B.C. The ability to export that gas in the form of liquefied natural gas (LNG) will lead to continued upstream investments.      
"For every dollar that's invested downstream [in an LNG plant] … the industry is going to spend $3 to $5 in the upstream," said Bumstead.
Those kinds of private sector investments create jobs and provide tax revenue that helps governments provide the services Canadians expect, he said.
"Whether it's municipal, provincial, federal, we need the revenue in order to provide the services we provide. Health, education, social programs – that comes from resource development."
It may be a little harder to understand why Rory Ring, president of the Sault Ste. Marie Chamber of Commerce in Ontario, is as enthusiastic as Bumstead about an LNG industry. He thinks it could be critical to Canada's post-pandemic recovery and long-term prosperity.
At a webinar last week on the benefits LNG will bring to Canada, Ring and others pointed to a recent Conference Board of Canada report that estimated the full build-out of two large LNG projects, and three smaller ones, would contribute $11 billion annually to Canada's GDP between 2020 and 2064, and would boost total wages in Canada by more than $6 billion a year, with B.C. realizing $4.6 billion of that increase.
While B.C. would benefit most, the report estimates it would create 10,800 jobs in Ontario and 9,200 in Alberta.
"When we have private sector investment in our economy, it dominoes across the entire country," said Bryan Cox, president of the BC LNG Alliance.
Ring pointed to Algoma Steel Inc. (TSX:AGA) and Tenaris (NYSE:TS) , which manufactures pipe for the energy sector, as examples of manufacturers in his city that supply the oil and gas industry across Canada. He also pointed out Sarnia is major hub in Eastern Canada for refining and petrochemicals.
"We are very, very tied to projects like this in Ontario," he said. "We, in Sault Ste. Marie, have a port, so we are able to ship heavy units and material out west to supply developments like this."
Ultimately, the investments trickle down to local small businesses, Ring said.
"What it comes down to is it's all about Gus's Pizza – the guy who started a pizza business, who supplies ship workers on their meal tickets. That person then hires three more people, and those people then go out and spend their money in the local business community."
In 2016, after oil prices crashed, numerous LNG Canadian proposals were scrubbed. Apart from LNG Canada – now under construction – the others still in play include two in B.C. – the Chevron-Woodside Kitimat LNG project, and the smaller Woodfibre LNG plant in Squamish – and two in Eastern Canada: Pieridae Energy's (TSX:PEA) Goldborough project in Nova Scotia, and GNL Quebec's Energie Saguenay project in Quebec. The Energie Saguenay project would source its natural gas from Western Canada.
More recently, a global pandemic has again contributed to an oil price crash and dramatically shrunk global energy demand in general, raising questions about whether investments in large LNG projects will again be deferred.
In its recent World Energy Outlook, the International Energy Agency (IEA) estimates the global demand for oil will not recover to pre-pandemic levels until 2023. The prospects for coal are even worse, but good for natural gas and LNG – and there is a direct link between the two.
"Coal demand does not return to pre-crisis levels … with its share in the 2040 energy mix falling below 20% for the first time since the Industrial Revolution," the outlook predicts.
One of the reasons for that decline in coal use is that it is being displaced by renewable energy – notably solar power – and natural gas. The outlook predicts: "demand for natural gas grows significantly, mainly in Asia, while oil remains vulnerable to the major economic uncertainties resulting from the pandemic."
Proponents say an LNG industry isn't just good for the economy, but also for the environment as well. Natural gas produces about half the greenhouse gases that coal does, provided that fugitive methane emissions from upstream production are minimized – not to mention fewer air pollutants, like sulphur and nitrogen oxides.
It's not just LNG industry boosters who say that.
In its 7 Energy Systems, the Intergovernmental Panel on Climate Change (IPCC) says: "lifecycle assessments indicate a reduction of specific GHG emissions of approximately 50% for a shift from a current world-average coal power plant to a modern NGCC (natural gas combined cycle) plant depending on natural gas upstream emissions."
And thanks to B.C.'s abundant clean hydropower, LNG produced in the province would have some of the world's lowest emissions intensities. Electrification of upstream natural gas production – which has been underway in B.C. for a few years now – reduces the emissions intensity at one end. At the other end, it can be used to reduce the carbon intensity in the liquefaction process.
Though the $40 billion LNG Canada project will use natural gas to drive the liquefaction process, other projects – Woodfibre LNG and Kitimat LNG – plan to use electricity (e-drive).
The average emissions intensity for an LNG plant is 0.33 tonnes of CO2 per tonne of LNG produced, said Woodfibre LNG president David Keane. Using e-drive, the Woodfibre LNG project would have a per-tonne emissions intensity of just 0.03.
According to a Clean Energy BC analysis, for a plant the size of Kitimat LNG, e-drive processing would reduce the annual emissions by about 70%.
"We'll be setting a new global standard for clean natural gas exports," Keane said. "Our site's access to renewable hydroelectricity means that we can reduce our greenhouse gas emissions by about 80%."
Source: BIV News
Warning!
Beware of email scams
DMG Events has been informed from several exhibitors are receiving scam emails . Please be aware these offers are fraudulent. These scammers do not have any relationship with DMG Events.In accordance with GDPR, CASL and other jurisdictional data privacy regulations, DMG Events will never sell your data to any third party organisations. Please see our Privacy Policy for more information regarding how DMG Events will process and store your information.