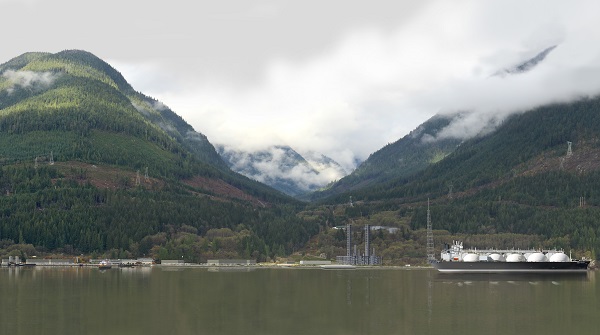 With energy analysts predicting that 2019 will be a milestone year for new LNG final investment decisions around the world, it is an exciting time for natural gas. The Woodfibre LNG project is the first industrial project to undergo Squamish Nation's groundbreaking environmental assessment process and is not the first industrial project in Canada to be awarded an environmental certificate by an Indigenous government.
In order to hear more about the recent developments ahead of Canada Gas & LNG Exhibition and Conference, Gastech Insights spoke to David Keane, President at Woodfibre LNG.  
Gastech Insights: What's been happening with the Woodfibre LNG project and what's next?
David Keane: The Woodfibre LNG Project is moving forward and we expect our project to be the second Canadian LNG export facility to move into construction.  We will award an EPC (Engineering, Procurement and Construction) contract in early 2019 and once that contract has been finalised we'll be in a better position to provide more specifics on the schedule. The focus at the Woodfibre site right now is the multimillion dollar cleanup of the foreshore. More about this can be found here.
We are also working through some permitting including a facilities permit from the British Columbia Oil & Gas Commission and will be working to meet the conditions of our agreement with Squamish Nation, which includes co-authorising and managing a number of environmental management plans.
Gastech Insights: What is Woodfibre LNG's relationship like with First Nations communities?
David Keane: Ongoing consultation and relationship-building with the community and local Indigenous groups has been a primary focus for the project team since day one. To date, these relationships have led to meaningful changes to the project. Most recently, the local Indigenous government, Squamish Nation Chiefs and Council approved an Impact Benefit Agreement (IBA) between the Nation and Woodfibre LNG. The IBA is a condition of a one of a kind environmental agreement between Woodfibre LNG and Squamish Nation, which conducted its own independent environmental review of the project. Another example of positive change, Woodfibre LNG will be powered by clean, renewable hydroelectricity, which will make Woodfibre LNG one of the cleanest LNG facilities in the world.
Gastech Insights: Projects in this sector usually attract opposition, has the Woodfibre LNG project experienced any?
David Keane: In this part of the world (the hometown of Greenpeace) there will always be opposition to industrial development and resource extraction, but we are committed to maintaining an open conversation and listening to the community and local Indigenous people. Actually, this open approach has led to meaningful changes in the design of the LNG facility. For example - the LNG processing facility was changed from floating to land-based over concerns about increased noise in the marine environment and we changed the technology we will use to cool the plant because of the environmental agreement with Squamish Nation (instead of using a seawater cooling system, we will use an air cooling (fans) system).  
Gastech Insights: Why will you power the plant with electricity and not natural gas?
David Keane: Using electricity will reduce our greenhouse gas emissions by more than 80%, and make Woodfibre LNG one of the cleanest (if not the cleanest) LNG facilities in the world.
Gastech Insights: What are the timelines for scheduled completion/operation date?
David Keane: We are set to begin construction of the LNG plant in 2019, with operation in 2023 to deliver 2.1 million tonnes per annum (mtpa) of the world's cleanest LNG to Asian markets. Once the EPC is awarded in early 2019, we'll be updating our project schedule.
Gastech Insights: Why should industry players attend the upcoming Canada Gas & LNG Exhibition and Conference (CGLNG)?
David Keane: The Canada Gas and LNG Exhibition and Conference provides an excellent platform for all players in the natural gas industry to get together to learn from and update each other on the latest industry news and views as well as project updates and opportunities.
Originally published on Gastech Insights. Take a look at the online content platform to discover more exclusive gas & LNG industry articles, interviews, eBooks and more! 
Bringing the full value chain together as well as adapting to recent market expansions, CGLNG is the only event of its kind. Register your delegate place today to not miss out!
Image courtesy of Woodfibre LNG
Warning!
Beware of email scams
DMG Events has been informed from several exhibitors are receiving scam emails . Please be aware these offers are fraudulent. These scammers do not have any relationship with DMG Events.In accordance with GDPR, CASL and other jurisdictional data privacy regulations, DMG Events will never sell your data to any third party organisations. Please see our Privacy Policy for more information regarding how DMG Events will process and store your information.